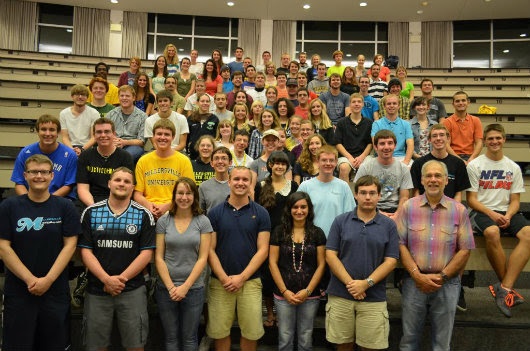 Award, Scholarship and Internship Information
Scholarships, internships, and grants are excellent ways to enhance your education and experience. Apply today!
Alumni
Now in our 31st year as a student chaper of the American Meteorological Society, MU-AMS is proud to claim hundreds of alumni in a vast network around the globe. In a field where connections are paramount, we publish an alumni newsletter to encourage a tighter-knit community of Millersville meteorology students past and present.
The Earth Sciences Alumni Travel Award, affectionately known as "400 in 4" because we aspire to raise $400,000 in four years, is an endowment program inspired by five alumni as a way of giving back by defraying the costs to future students attending the conferences and professional meetings.
Russell L. DeSouza
For the nineteenth year, the Millersville University Chapter of the American Meteorological Society will hold its annual Russell L. DeSouza banquet. The event will cap off an eventful year within the MU-AMS with social interaction, a fully-catered meal, a salute to the outgoing seniors, and the announcement of next year's chapter officers.
We will also pause to remember the life's work of Millersville's first meteorologist, Russell L. DeSouza.